Everyone is talking about it, maybe you are too, finally the mist awaited movie of 2017 has finally released its first trailer. Set in the 1962 Sino-Indian War, it stars Salman Khan in the lead role who plays a man from India who falls in love with a girl from China. Tubelight is a war drama written and directed by Kabir khan. The movie is based on the story of the film " Little Boy", a Second World War story that was released on 2015. It is confirmed from the director that Shah Rukh Khan will feature in a film cameo.
Salman khan tweeted: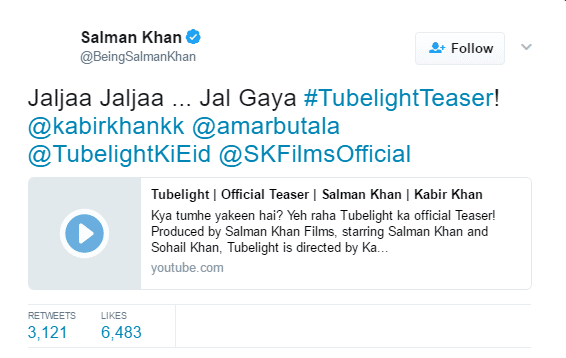 Twitter has gone into a frenzy over the trailer: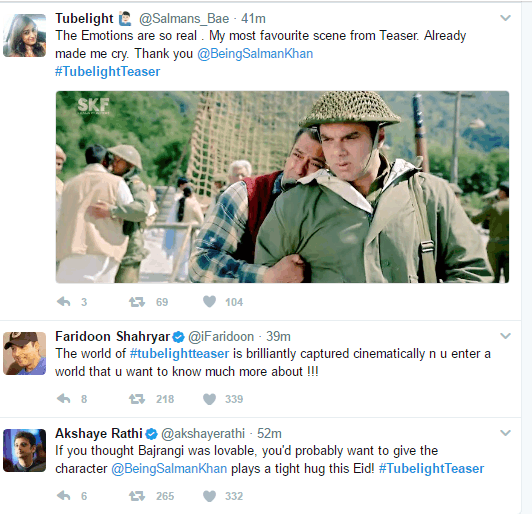 People have been waiting for this movie for a long time. The title had caused much curiosity, and Salman bringing a new heroine to Bollywood added to the buzz. Zhu Zhu is a Chinese actress and singer and she is now making her Bollywood debut.
People are talking about how the teaser made them cry, and how they emotionally connected with it. Salman Khan no doubt has a very high number of fans who are loyal to him, and his every movie deeply matters to them.
Salman fans have made sure that this movie is going to be a hit right from the beginning. People are excited and are desperately waiting for its 23 June release.